Delicario Cappellacci Ricotta and Spinach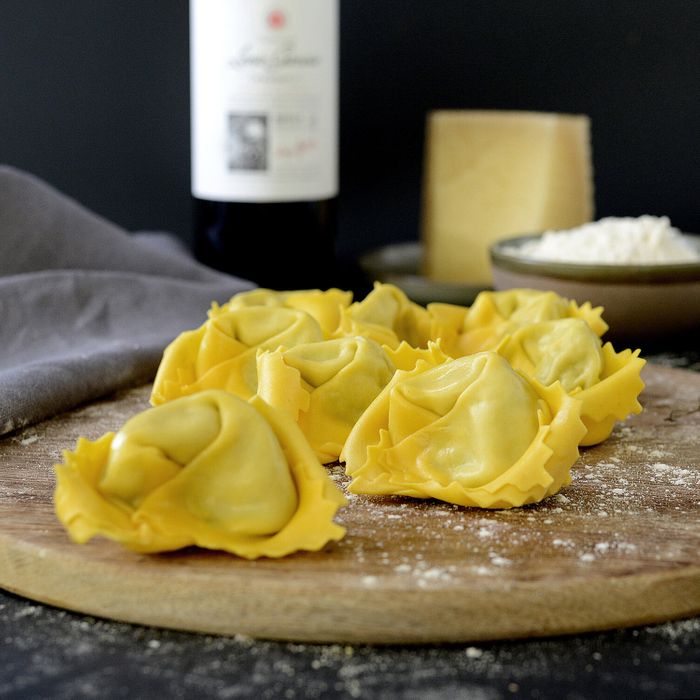 Handmade from 100% Italian wheat, a classic recipe prepared by grandmothers in the Veneto and Emilia regions using locally grown spinach and the best Italian Ricotta cheese.
Established in 1998 by two brothers, this family pastificio produces artisan and preservative-free fresh egg pasta, fresh filled pasta and gnocchi (potato pasta), using only the best ingredients sourced within Italy such as Parmigiano Reggiano, Speck Alto Adige and Pecorino Romano. The brothers revived some of the old and traditional pasta recipes such as bigoli mori and now produce over 150 different types of pasta. Their kitchen respects the Italian culinary culture and the artful traditions of "creating pasta".
Content: 300g
Ingredients: PASTA: Durum wheat flour, soft wheat flour type 00, fresh free range Italian pasteurised eggs 28%. FILLING: Fresh Ricotta cheese (pasteurised cow's milk, whey pasteurised cow's milk, salt) 30% (15% of the total), spinach 35% (17.5% of the total) , Grana Padano PDO cheese (milk, rennet, salt, lysozyme: egg protein), breadcrumbs (soft wheat flour type 00, salt, active dry yeast), salt, pepper, nutmeg. May also contain fish, crustaceans, shellfish, dairy products, celery, nuts.
How to enjoy: Traditionally served without sauce, just butter, sage and grated parmesan create a very tasty dish.
Categories
Bakery
Cheese & Dairy
Drinks
Grocery
Ingredients
Meat & Seafood
Other Food & Drink
Snacks & Confectionery
Ambient
Artisan / Speciality / Fine
Frozen & Chilled
Gift Food
Organic
Private / White Labelling
Vegan
French
Italian
Spanish