Brownie with Pecans & Dates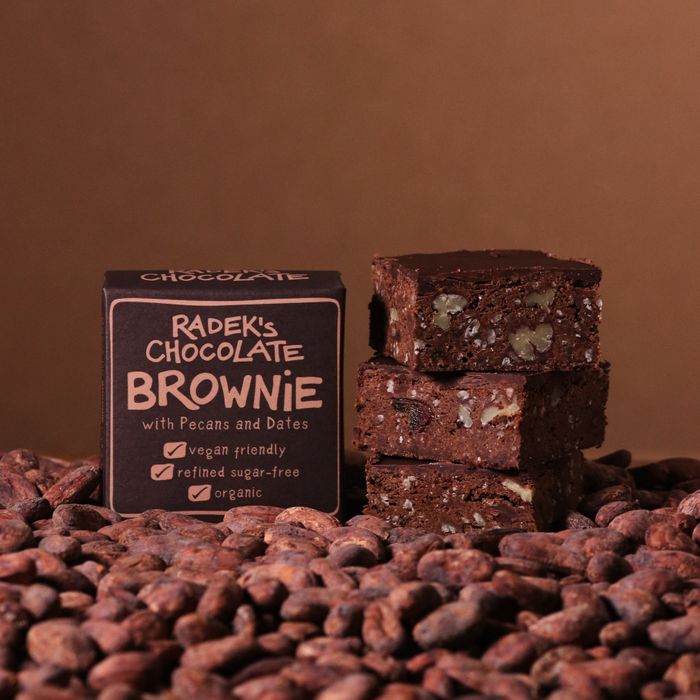 Warning! This Vegan Chocolate Brownie is on a serious health kick! You can really let loose with our soft, fudgy brownies, because they're full of the finest organic and ethically sourced ingredients we can get our hands on. Each bite is filled to the max with pleasure! From the sweet pecan patters on the tongue, to the rich, fulfilling chocolate resting deep in your belly. We've filled our special vegan chocolate brownies with magic to give you the full, sensual experience… and that's why you guys keep coming back for more!
These vegan dark chocolate brownies were the sacred seeds of Radek's Chocolate itself, and they continue to make us proud to this day. We know regular vegan brownies can sometimes be high in sugar, or low in quality, so we've put our all into making this one stand above the rest. We always want the best for our community, and lovingly crafting these brownies is one way of showing gratitude to you guys.
One brownie isn't enough? Why not check out the options for buying in bulk? Check out our loose case of vegan brownies – currently on sale!
Product Information
We care about the well-being of our communities and our planet, so we ensure all of our products are vegan, refined sugar-free, and organic. We also pride ourselves on ethical trading, which is free from slavery and child labour. All of our chocolate is also handmade in our hometown with care.
And guess what…every single item of our packaging is compostable too! Check out one of our suppliers, Eco Craft, for more details!
Categories
Bakery
Sweet Goods
Baked Confectionery
Chocolate
Artisan / Speciality / Fine
Frozen & Chilled
Organic
Plant Based
Recyclable
Sustainable
Vegan
Vegetarian