Delicious London Dry Gin In A Beautiful Bee Tin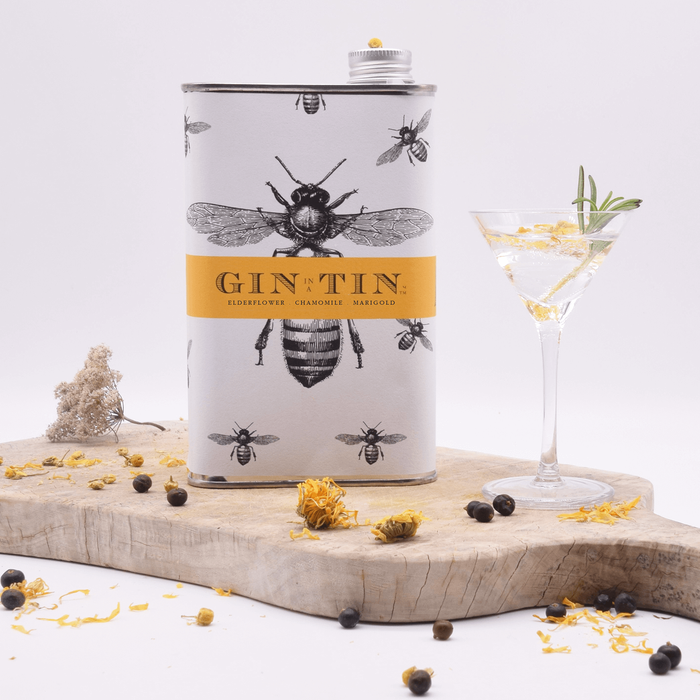 We are all about showing love and appreciation for that someone special in your life – particularly if it is with a beautifully illustrated tin of gin. Our wonderfully illustrated bumble bee tin makes for the perfect gin gift for a loved one. Also, take it from us, you do not always need a special occasion to give someone a present – a letterbox-friendly gin gift is always appreciated!
Inspired by the eye-catching design, the gin blend housed inside each tin has distinctive notes of nectar from elderflower, chamomile & marigold as well as many other botanicals centred around juniper berries to create the ultimate refreshing taste.
Tasting Notes:
Creamy orange notes from the marigold flowers lead the gin. Soft citrus tones then open on a backdrop of juniper. The blend finishes on long lasting floral hues.
Serving Suggestions:
When it comes to serving this gin, we would recommend pairing it with lighter tonics such as Franklin & Sons, Fever Tree light or Schweppes. Perfect for a gin and tonic, this blend has refreshing notes that work well combined with a citrus garnish.
Each Tin Contains: 50cl each at 40% ABV.
Allergen Advice: May Contain Wheat
Categories
Drinks
Spirits & Liquers
Gin
Ambient
Artisan / Speciality / Fine
Gift Food
Autumn
BBQ - Barbeque
Celebration
Christmas
Dessert
Easter
Feel good
New Year
Spring
Summer
Winter
Recyclable
Sustainable