WILLY'S APPLE BALSAMIC VINEGAR WINS GOLDEN FORK AWARD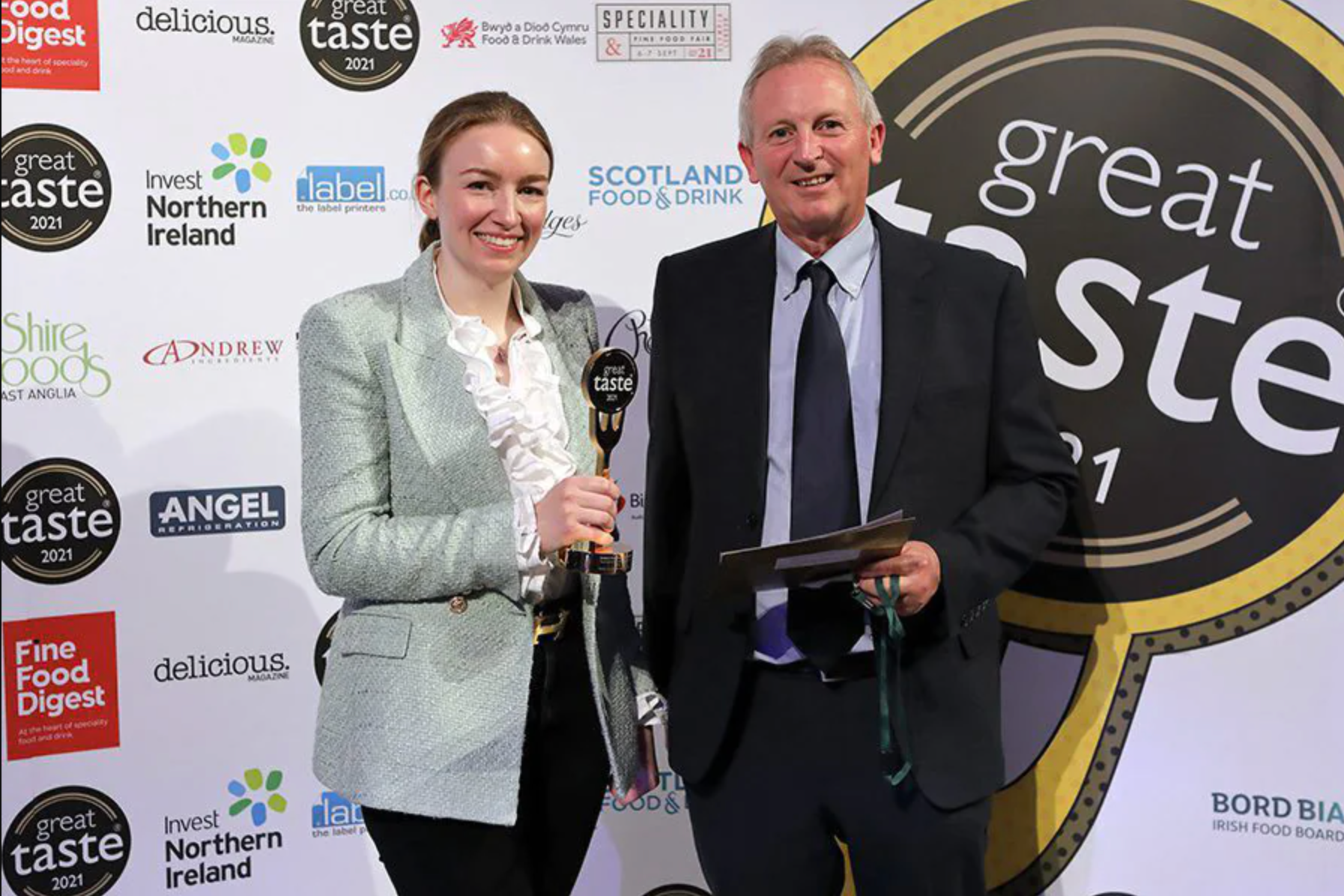 Willy's ACV bagged not only a 3* Gold Great Taste Award, but a prestigious Golden Fork Award too!
Wow! We are simply over the moon to have won a Golden Fork Award and a 3* Gold Great Taste Award from the Guild of Fine Food! Thank you so much to The Guild Of Fine Food, we are incredibly humbled to have received such outstanding feedback and so many awards before the product is even available for sale. This is a special one and we cannot wait for you to have a taste!
We're thrilled to have been narrowed down to one of just 16 winners from over 14,000 entries! A very special occasion for the team at Willy's ACV.
The 2021 Great Taste Golden Forks were announced at a live awards ceremony at FINE FOOD SHOW NORTH on Sunday 17 October. Jess attended the awards ceremony last weekend in Harrogate to accept the award on behalf of the whole team.
"Absolutely delighted that Willy's ACV – Probiotic Live Foods has won a Golden Fork for our Apple Balsamic Vinegar from the Guild of Fine Food! To win this on top of our recent 3* award is truly amazing and very humbling indeed! Thank you!"
- JESS FLETCHER (Willy's ACV Team Member)
About the Great Taste Awards
Great Taste is the largest and most trusted food and drink accreditation scheme. It supports and promotes food and drink producers, large and small, giving buyers and food lovers in the UK and overseas reliable recommendations for great tasting food. Recognised as a reliable stamp of excellence among consumers, retailers and major food buyers alike, Great Taste success can be the gateway to exciting opportunities for food and drink producers. Great Taste stars are highly respected seals of approval.
14,113 different products from 108 countries were entered in 2021.
1 supreme champion
16 golden forks
218 x 3-STARS
1,138 x 2-STARS
4,027 x 1-STARS
355 judges blind-tasted this year's entries, including; Joanna Blythman, investigative journalist and food writer, cook, writer, stylist and voice of modern vegetarian cooking, Anna Jones, author, Olia Hercules, Kenny Tutt, MasterChef 2018 champion and restaurateur, food writer and cook, Xanthe Clay, presenter, author and tutor, Steven Lamb, baker and author, Martha Collison, and Kavi Thakrar from Dishoom, as well as food buyers from Selfridges, Fortnum & Mason and Partridges.
---
What the judges had to say about Willy's Balsamic Vinegar:
We couldn't have asked for better feedback from the judges. Hear what they had to say:
"A sublime vinegar that is masterfully balanced in flavour and texture to deliver amazing sweetness and acidity. This is a truly outstanding product – we found ourselves lost for words tasting – we do not see how it could be further improved. An absolute delight."
"Great looking vinegar with a clean, fruity aroma. First the waves of rich fruity apples that have notes of caramel, then well-judged acidity bringing more savoury notes – the flavour is stunning. Beautifully balanced with a rounded finish which is complex and has a wonderful length. This is a product that surely brings joy to everyone who tastes it."
---
Founder & Fermenter Willy Chase was over the moon to find out the news
"Since starting out in 2001 with Tyrrells Potato Chips, trying to create a pedigree brand out of my own farm crops, I have really appreciated all the support and awards received from the Guild of Fine Foods over the years. I'm really overwhelmed with the response for our Organic Apple Balsamic Vinegar and so pleased with our 3* Gold Great Taste Award, as I feel it's one of the finest products I have created here in Hereford. We grow, harvest, press, ferment and rest in oak before bottling here, at source, on our farm. We are proud to own the whole process which is carried out by our small team, making it all the more special. To add to this, I'm so excited to have won the Golden Fork Award for our Eureka Balsamic, it's the ultimate in accolade in both taste and pedigree. To get one of only 16 awards out of 14,000 entries is remarkable. I am truly humbled and grateful to all the judged and everyone involved in the organisation."
- WILLY CHASE

On top of this we were delighted to find out last month that our Apple Cider Vinegar products won 3 other Great Taste Awards!
Which Willy's Products won?
WILLY'S APPLE BALSAMIC VINEGAR
Golden Fork Award
3* Great Taste Award
WILLY'S HONEY & TURMERIC ACV
2* Great Taste Award
WILLY'S FIRE CIDER ACV
2* Great Taste Award