12 Jun 2023
Can I get a sample?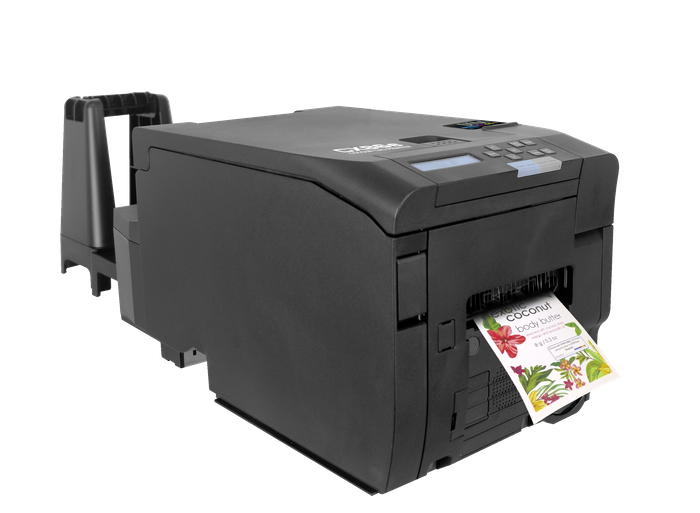 Introducing DTM Print's label printing system for cosmetic sample production
Product samples are a great way to test how well new products, different variants or mixtures are received by consumers. Especially – but not exclusively – the cosmetic industry benefits from giving out product samples at the store, at trade shows or as part of deliveries. Other industries include coffee, tea, artisan food, confectionery and sweets. It's a win-win for both sides – the consumer gets that nice little "extra" and they can try out new products for free and the producer uses it for market research, (test) marketing and prototyping.
Well-known sample packaging for cosmetic products are stand-up, flat-bottom and flat pouches, which can be ordered to be designed and printed the way you like at printing houses. But as more and more manufacturers migrate from outsourcing labels to bringing the production in-house, it would be great to have a printing solution that can print directly on flat pouches. Producing product labels in-house comes with a lot of benefits like less stock, less wastage and print on demand as needed and less timescales from design to the printed label. All of that allows companies to be independent from external suppliers and flexible to market changes.
DTM Print is an international OEM and solution provider for specialty printing systems. They offer a wide range of label printers for a fast and flexible on-demand label production including the DTM CX86e Colour Tag Printer. The CX86e is a very compact solution with a footprint of just 20 x 38 cm and a height of 19.5 cm. Because of its small size and low weight of just 9.5 kg the printer can be used almost anywhere and is easy to transport. With this LED dry toner printer high-quality full-colour prints can be produced within seconds directly in production, at the point-of-sale or at various places of use. The CX86e uses the latest digital LED technology. Meaning the printed output is pin sharp, waterproof, UV- as well as chemical-resistant and therefore very durable.
Besides printing labels, you can produce ID tags with photos, entry tickets, visitor badges or wristbands, value-added receipts, price and promotion stickers, coupons, vouchers and now also flat pouches. DTM Print offers all kinds of (label) materials under its brand Genuine DTM Label Stock – one of them being the new DTM Poly Flat Pouches. Using flat pouches cosmetic products are packaged hygienically, safely and sustainable, but above all in an eye-catching way. The DTM Poly Flat Pouches can be printed like any other label material. Meaning businesses use the CX86e to print photos, illustrations, graphics, text and bar codes in full-colour on both sides of the pouch and therefore produce a packaging in the way that best suits their brands. In addition, flat pouches offer a high hygienic protection against oxygen, moisture and UV radiation. After printing, DTM Print's flat pouches can be sealed with a foil sealer and are perfect for handing out professional samples to customers.
To learn more about DTM CX86e Colour Tag Printer and the DTM Poly Flat Pouches go to https://dtm-print.eu. A video that shows how to use the CX86e to print on the new flat pouches is available at https://www.youtube.com/watch?v=uEKPdR-W3xk. Alternatively, DTM Print will show the CX86e at the Speciality & Fine Food Fair in London from 11th to 12th of September 2023. The company is located at stand 3147.
### Ends ###
DTM Print
Phone: +49 611 92777-0 - E-mail: sales@dtm-print.eu - Web: https://dtm-print.eu