26 May 2021
Rhum Damoiseau Pink Guava Trade Release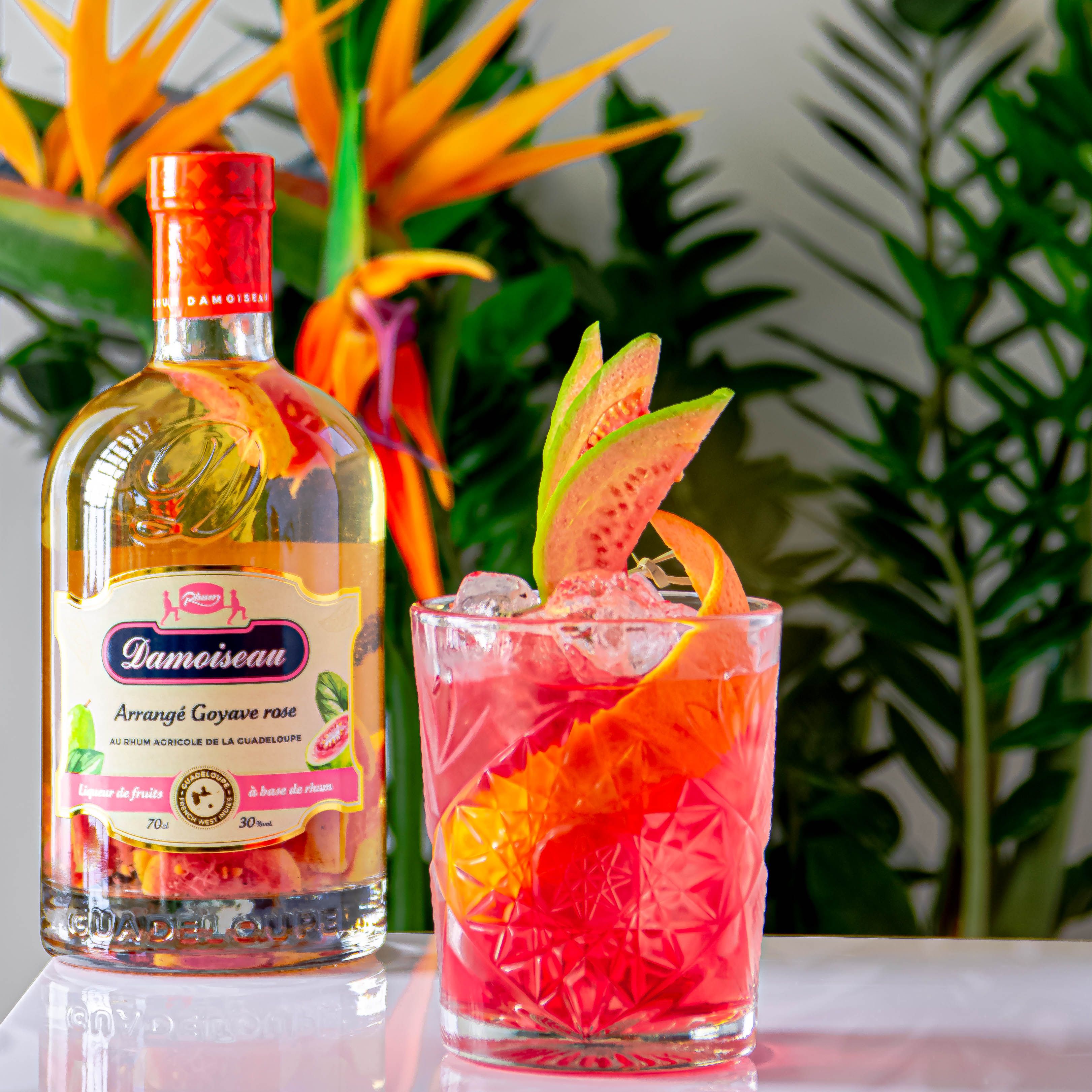 UK'S ONLY REAL FRUIT RUM BRAND, RHUM DAMOISEAU, LAUNCHES ARRANGÉ PINK GUAVA
The only rum brand in the UK to follow the Caribbean tradition of including real fruit in the bottle, Rhum Damoiseau are proud to be launching their Arrangé Pink Guava this month, showcasing hand-picked, hand-cut and hand-bottled fruit from the island of Guadeloupe, where they are the only remaining distillery located on the Grande Terre wing of the island.
Replicating the longstanding traditional Antilles preparation that sees local fruit preserved this way, Arrangé Pink Guava is a silky taste of the French West Indies. Mythically known as 'the nectar of gods', guava adds a floral, well-rounded, fruity yet aromatic bouquet to the heavily scented Agricole-style rhum, and an exotic flavour profile similar to pear and strawberry that bursts with freshness in the mouth. This incredibly refreshing, easy-drinking fruit rum has been produced by the family run distillery using sugar cane juice based rum, as opposed to molasses, for a lively and charming insight into Guadeloupe's much-celebrated pour.
The addition of real whole vanilla pods alongside the guava fruit presents a mellow ABV of 30%, making this Agricole-style rhum fantastic for sipping neat as a liqueur or for building cocktails and fruit punches. Alternatively, add to prosecco for a Creole Bellini, serve with lime juice and crushed ice for a refreshing Daiquiri or enjoy with tonic for a simple yet sophisticated aperitif. For a unique twist on the Negroni, top Arrangé Pink Guava with Campari and red vermouth for a cocktail nobody will be able to have just one of.
Damoiseau also recommend savouring the experience further, by using the rum-soaked, juicy guava fruit straight from the bottle as a garnish when the bottle's done!
Arrangé Pink Guava is produced with expert skill that has been passed down through generations creating a faultless spirit for experimenting with this Summer. Rhum Damoiseau's Arrangé Pink Guava is distributed in the UK through Skylark Spirits. To get in touch with the team about this exciting new drink, please email jaz@skylarkspirits.com.