23 Mar 2023
New EcoTec Label Line for Eco-Friendly Product Labelling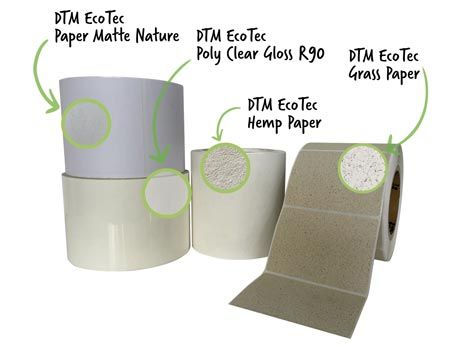 Sustainability is important. With the new DTM EcoTec Label Line you can produce eco-friendly product labels.
Labels are a crucial part of any packaging. They have a strong impact on the purchasing process of consumers by drawing attention to a product. In addition, labels contain plenty of information that can influence consumers to buy a product or look for an alternative.
When buying a product, consumers also take into account how sustainable the product packaging and the used label are. Hence the question is plastic better than paper or vice versa? There is no general answer to this question. It is important though that the same materials are used for a packaging, for example a PET label on a PET bottle with a PET cap or a paper label on a cardboard box. Unlike composite packaging mono-packaging can be recycled as a whole and without the consumer having to manually separate the different materials that composite packaging are made of. If that doesn't happen in advance the only way to recycle is thermal recycling, in other words waste incineration.
In addition, the sustainability of a packaging can be increased by using environmentally friendly labels. DTM Print, international OEM and solution provider for specialty printing systems, has bundled its selection of eco-friendly, recycled or natural labels under the new label line DTM EcoTec. As of now, the following four materials are part of the EcoTec line; further substrates will follow:
DTM EcoTec Hemp Paper: This label consists of 100% hemp fibre. Hemp can be harvested up to three times a year, plantation trees only every seven years. Thanks to its fibres, which are five times longer than wood pulp, the material is particularly tear-resistant and can be recycled very often.
DTM EcoTec Grass Paper: The natural grass fibres of the label not only give the paper material its unique, natural look, but also reduce the amount of process water needed in the production process. The adhesive is an acrylic dispersion, permanent, solvent free and can be in direct food contact according to EU regulation No 10/2011.
DTM EcoTec Paper Matte Nature: This paper label is made from 100% recycled backing from used label rolls.
DTM EcoTec Poly Clear Gloss R90: It is a glossy clear poly label, which consists of 90% post-consumer recycled (also known as PCR) PET material. It features the same clarity, mechanical properties and printing characteristics as its non-PCR counterpart "DTM Poly Clear Gloss". Using PCR material also establishes more recycling volume for the plastic production process and industry.
In addition, the water-soluble adhesive of the aforementioned labels is below 0.01%. That means, it also passes the recycling process.
"To produce exceptional product labels for all kinds of applications you not only need advanced and resource-friendly print technology as integrated in our colour label printers but also high-quality material," explains Albion Bekolli, label specialist at DTM Print. "Every product leaves a footprint on our planet and using label material that is environmentally-friendly and sustainable helps to keep it as small as possible."
For more information visit https://dtm-print.eu.
### Ends ###
DTM Print
Phone: +49 611 92777-0 - E-mail: sales@dtm-print.eu - Web: https://dtm-print.eu