24 Aug 2023
Kosher Certification for Eddie Edible Ink Printer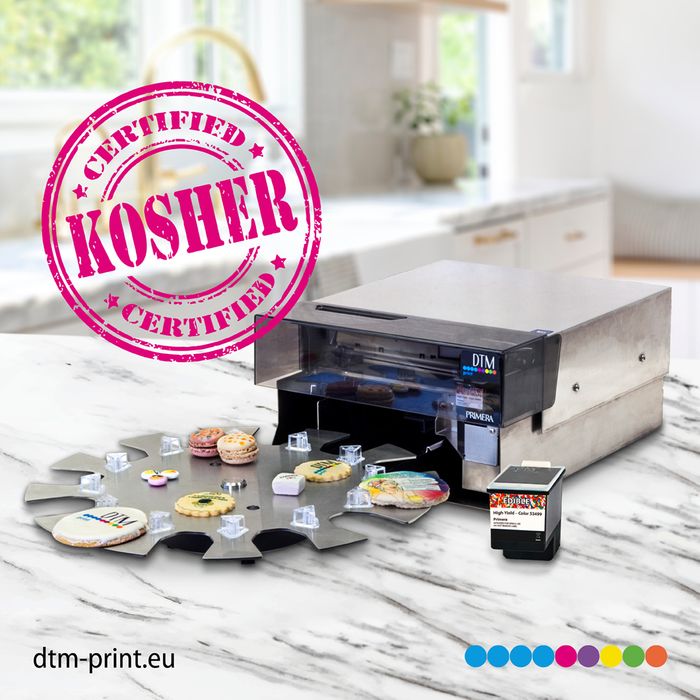 The direct-to-food printer Eddie has received Kosher Pareve certification.
The direct-to-food printer Eddie, manufactured by Primera Technology and distributed in the EMEA region by DTM Print, has received Kosher Pareve certification. This certification is a testament to Primera's commitment to providing high-quality products that meet the needs of observant Jewish customers while ensuring food safety, purity, and quality for all customers.
While Eddie's edible ink has always been kosher, it is important to note that simply supplying kosher ink is insufficient for claiming kosher certification. By undergoing this certification, Primera distinguishes itself from other edible ink printer manufacturers by supplying not only kosher inks but also ensuring that its entire product and production processes meet the strict standards set forth by a certified kosher organization. Primera obtained its kosher certification by Kosher Supervisors of Wisconsin (USA), a renowned organization known for its expertise in certifying products as kosher.
"Earning kosher certification for Eddie Edible Ink Printer is a great achievement. It reflects on how important the needs of our diverse customers are for the manufacturer and demonstrates its dedication to inclusivity," states Andreas Hoffmann, Managing Director of DTM Print. "Eddie is now a product that is not only kosher but also meets the highest standards of food safety, purity and quality."
Eddie was designed from the beginning to be used in food processing environments to fulfil all hygienic standards. Stainless steel housing, easy to clean components and certified ink with EU and FDA approvals make Eddie the safest direct-to-food printer in its class. The Kosher Pareve certification adds to the list of industry-leading certifications as Eddie's printhead and filling equipment is cGMP certified, the ink-filling cleanroom is FDA-approved and the printer itself has been certified by NSF. The edible ink is also Halal certified and suitable for vegans.
Eddie Edible Ink Printer, its supplies and accessories are available directly from DTM Print or through authorised DTM Print partners in Europe, Middle East and Africa.
For a live product demo at the Speciality & Fine Food Fair in London from 11th to 12th of September 2023 visit the stand of DTM Print. The company is located at stand 3147. Product details and videos can be accessed at https://dtm-print.eu
### Ends ###
DTM Print
Phone: +49 611 92777-0 - E-mail: sales@dtm-print.eu - Web: https://dtm-print.eu