20 Jul 2022
The Kindest Chocolatiers On The Planet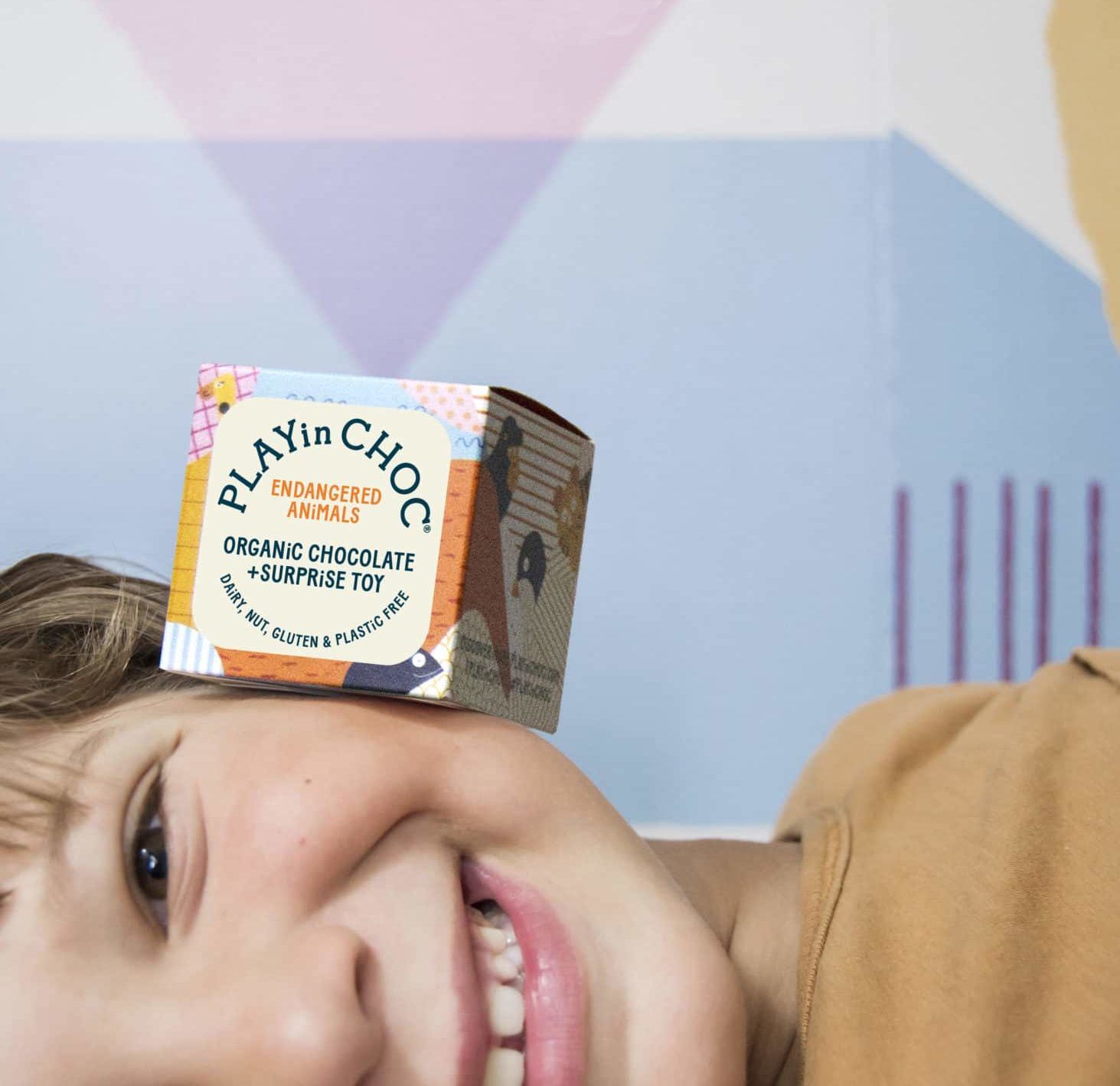 THE KINDEST CHOCOLATE BRAND ON THE PLANET
Introducing PLAYin CHOC, the 'kindest' chocolatiers who care about both protecting the planet and ethically sourcing their ingredients too!
PLAYin CHOC entered the market in 2018 with their one-of-a- kind Endangered ToyChoc BoxTM; a 100% recyclable, zero- waste and plastic-free box filled with pure joy! Inside kids can find 2 allergen free organic chocolates, a card puzzle toy to build and an educational fun facts card. In a short space of time, the brand then expanded to include 66 collectable ToyChoc BoxTM boxes across 5 ranges, their JustChoc BoxTM range and their multi-award-winning advent calendars.
The PLAYin CHOC Journey
Mother of 2, Maya Simler, noticed a gap in the market for a healthier chocolate treat that could be enjoyed by virtually all children, given her own son's intolerance to lactose. Her passion to create PLAYin CHOC was also driven by her frustration towards excessive, single-use plastic packaging. PLAYin CHOC is also uniquely designed to teach this generation about the world around us through the educational fun fact cards which can be found in the ToyChoc BoxTM range. The final vegan recipe is free- from 14 of the main allergens, including dairy, nut, soy and gluten, and can be found in over 3000 stockists worldwide .
The ethical ingredients!
The winning formula is just three natural and organic plants. The deliciously smooth and creamy chocolate is a combination of gently roasted cacao, which is grown on small family-owned farm collectives in Peru using the finest criollo beans (certified slave free, child labour free and animal labour free), Madagascan Bourbon vanilla and vitamin rich Indonesian coconut. These ingredients are certified by the Soil Association, which enables a reduction in pollution and soil erosion, increase in soil fertility and uses less energy.
The two flavours include a Single Origin Peruvian Dark 70% and a brand- new Single Origin Peruvian Vegan M•lk which can also be found in the ToyChoc BoxTM - chosen by kids!
The chocolate process (no couverture here!)
PLAYin CHOC is one of the only chocolate brands made in their own Salsa certified artisan facility in the UK. The chocolate is made from the finest, fairly traded, organic, single-origin Peruvian cacao criollo beans. The beans are then gently roasted in order to release the full flavours and are later combined with creamed Indonesian coconut and coconut sugar, as well as Madagascan bourbon vanilla, into a smooth velvety texture and complex multi-note taste. Finally, the liquid chocolate is poured into 10g moulds and set, before being wrapped and hand packed into their individual boxes.
Collectable ToyChoc BoxTM range
The 66 collectable ToyChoc BoxTM are loved by kids 3+ and welcomed by adults. Each recyclable box contains 2 x 10g chocolates, a 3D animal puzzle toy to assemble and collect, as well as an educational, fun facts card about any animal from woodland or dinosaur to endangered and Christmas. PLAYin CHOC also support various charities each year, including The Natural History Museum, Whitley Fund for Nature, Unicef and WWF.
A ToyChoc BoxTM is RRP £2.25 each, or RRP £40 for a complete set of 18 ToyChoc BoxTM. The Selection Gift Set of 6, Rabbit and Christmas sets are RRP £13.50 each.
Sustainable Packaging And Design
Maya's background in design ensures that every product is beautifully designed. Plus, the packaging and toys are made from recyclable card which is FSC and carbon balanced, making PLAYin CHOC entirely plastic-free.
The 10g chocolates are wrapped in 100% plant-based home compostable film, preventing anything from ending up in landfills or our oceans.
Delicious JustChoc For All The Family
The JustChoc BoxTM range has proven extremely popular, as both an on-the-go snack and to gift to friends and family.
This collection includes a 3 or 10 piece box and a brand new 6-piece slab. Each 10g piece has the same three simple, organic plants and it really is the best vegan chocolate you will try.
A JustChoc BoxTM 3 piece is RRP £1.50, JustChoc BoxTM 6 piece is RRP £3.00 and a JustChoc BoxTM 10 piece is RRP £5.00.
Christmas Cheer With PLAYin CHOC
Experience 12 or 24 days of PLAYin CHOC joy in the lead up to Christmas with a beautifully illustrated chocolate and surprise toy advent calendar – all 100% plastic-free.
Slip off the outer sleeve to reveal 24 or 12 windows, each filled with a 10g mini-chocolate bar, a 3D puzzle toy made from 100% recycled board to build, 3 stencils to use for creative drawing, and a fun facts educational info-card. The calendar sleeve also easily reverses into a beautifully illustrated play mat, offering hours of extra fun! The 12-window advent calendar is RRP £24.95 and the 24-window Advent Calendar is RRP £49.95.