04 Jul 2023
Hard Tea - the 'new low calorie alcoholic you need to know about'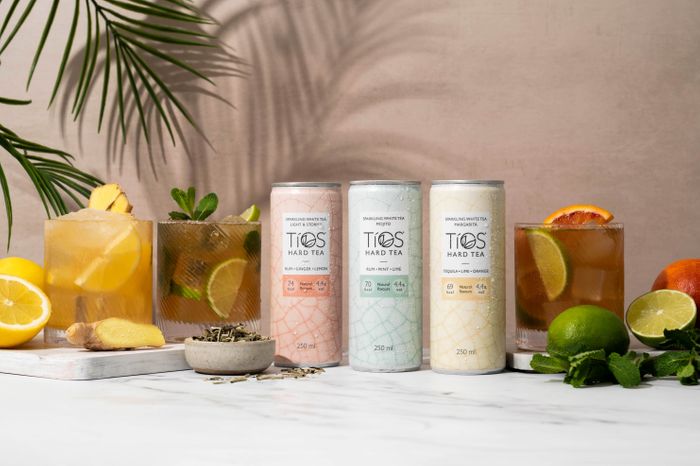 Tea and cocktail in one. Discover the new drinks startup Tios Drinks, a sparkling alcoholic tea known as hard tea (an emerging category)
Tea and cocktail in one. Discover the new drinks startup Tios Drinks, a sparkling alcoholic tea known as hard tea (an emerging category)
Tios Drinks is a range of premium low calorie, low sugar and vegan ready-to-drink sparkling hard teas (alcoholic tea) made with brewed organic* white tea, premium alcohol (4.4% abv) and natural ingredients, served in recyclable 250ml cans. The three different flavours, White Tea Mojito, White Tea Margarita and White Tea Light & Stormy are tea-based twists of three popular cocktails.
The White Tea Mojito received the Gold Medal by a panel of industry experts at the Drinks and Spirits Business Autumn Tasting 2021 in the pre-mixed cocktail category (out of 26 submissions). Tios is available to purchase on their webshop in 6, 12 and 24 packs.
Inspired by family, infused with spirit.
Sisters Cecilia and Segolenne Roux, and fiancé Mark Andersen, are the co-founders of Tios. We've combined two of our favourite things, tea and cocktails, or cocktails and tea in that order, to create Tios. Our tagline: 'We put the tea in cocktails'. The name Tios is inspired from the Spanish 'Tíos' meaning 'uncles' and is in honour of our family tradition of Margarita night, started off by our aunt and uncle.
New Hard Tea Category
Hard Tea or tea-based alcoholic beverage is a sector that is taking off. Tios Drinks is unique because it combines tea with high quality spirits, rum and tequila for a not-so-guilty pleasure. The UK hard seltzer market is expected to be worth £75 million by 2023, according to a new report (The Spirits Business, 01/2021) and hard tea is a new sub-category which has huge potential for growth.
A sustainable choice
Tios is transparent about all the products used and the aim is to always use sustainable materials where possible without compromising on quality or taste. All cans are made of recyclable aluminium and the can labels are compostable. The water used is from a local borehole and the production site is carbon neutral. Packaging is kept to a minimum and is FSG certified.
For the mindful pleasure seeker
Tios has the ambition to become a go-to drink for increasingly health conscious consumers. Tios is an exciting alternative to hard seltzers as well as the sugary, calorific pre-mixed drinks, wines and beers. The white tea offers a subtle herbal hint and a depth of flavour.
Our ingredients
Tios is vegan and has no allergens. Our white tea is organic* and fair trade. The agave spirit (from Mexico) and white rum (from Madagascar) are high quality spirits and all extracts (garden mint, lime, lemon and orange) are natural. To create the perfect balance of flavours, we use a blend of natural sweeteners (stevia & erythritol) to maintain a low level of sugar.
Tios Drinks HQ are based in Copenhagen, Denmark and the production and operations are based in England.
*Tios is not certified organic but organic tea is part of the ingredients.