17 Jul 2023
Foie Royale Interview in Chef & Restaurant Magazine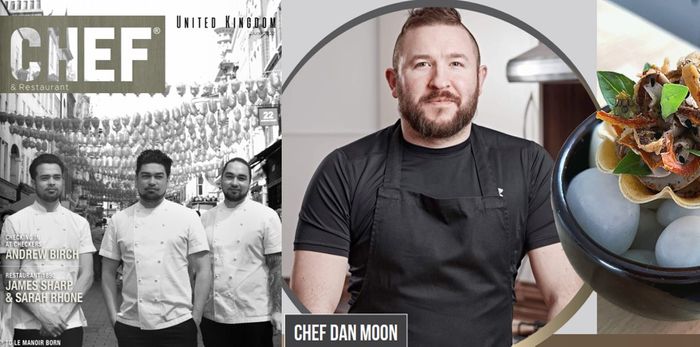 In this interview, Dan Moon, the Ambassador Chef of Foie Royale shared about his journey in cooking, elaborated more on his passion on seeking for new, sustainable and ethical ingredients in his menus with his creative cooking and out-of-the-box idea. Followed by Mike Logut, the Managing Director of Foie Royale, he talked about the story behind of the product development, changing consumers' habits and attitudes, as well as his vision on bringing more new lines of Foie Royale to the market.
In June 2022, the United Kingdom celebrates HRH Queen Elizabeth's Platinum Jubilee. As the bunting is hung, the tables put out and the toasting to Her Majesty begins, there will be celebration galore.

2022 is witnessing celebrations of a somewhat 'Royale' nature as Foie Royale, the ethical alternative to traditional Foie Gras, continues to attract attention from chefs around the United Kingdom. The product already has a huge consumer following and is in demand throughout Waitrose and Fortnum & Mason stores, it was only ever a matter of time before it began to appear on restaurant menus.
Chef Dan Moon is UK ambassador to Foie Royale. Born in Devon, he began his career at a super early age – just 14. Joining the kitchen to help with basic prep, the teenager soon became enthralled with the energy and pace of service and it wasn't long before he was enrolled at Exeter College to study Food Preparation and Professional Cooking.

"When I graduated, I moved to Bath and worked in a few places and in 2010, when working at Homewood Park Hotel, was awarded 3 AA rosettes. This kind of launched my career. The same year I won an Acorn Award and Chef of the Year"

In 2016, Dan accepted the position of Executive Head Chef at the Gainsborough Bath Spa. There were opportunities for travel and this is where Dan picked up his love of Asian flavour profiles and ingredients. His tours and guest chef experiences in Kuala Lumpur, Singapore and Hong Kong embedded a desire to return these flavours back home and pair elements of them with more classical dishes, a style Dan has become renowned for. The 3 AA rosettes followed him to Gainsborough, the restaurant was renamed after him, and the push started to improve even further. 4 AA rosettes was in sight. Then Covid and lockdowns happened. The owners of the hotel took a look at their business and decided to change the concept of the food. Unhappy with this, Dan chose to leave "I left on good terms, and I left on a high. I had my dreams and visions, after so much effort at the Gainsborough and coming so close to those 4 rosettes, I couldn't just change down a couple of gears"

Out of a kitchen and still in lockdowns, Dan turned his attention to menu boxes. Supplying a full meal ready to be finished off at home, the business quickly grew and orders were a-plenty. To compliment these – once restrictions allowed – Dan created a private chef-at-home business, catering for dinner parties and small events at the client's address. These have been incredibly successful, with the feedback overwhelmingly positive and repeat bookings a regular occurrence. But does Dan miss the hustle and bustle of a professional kitchen set-up?
"Yes. And no! I do miss working with a team, you become like one big family and I miss the everyday banter and the laughs we would have. But, on the other hand, I still get to do what is at the very core of my reason for cooking – I still get to create memories for my guests, I still manage to fulfil my need to make people happy through food.
"I have also had time to realise what I have missed over the past 25 years. I have two kids aged 11 and 9 and have missed the usual things like school runs, or being at home for supper time. My private chef business has given me the chance to be a real Dad to them, not a mostly absent and knackered one. I don't miss the stress of working long hours, that's for sure"
Yuzu by Dan Moon is presently made up of the home delivery boxes and the private cheffing. I ask Dan if, before Covid, he had ever entertained a different path?

"Never. I didn't think it was possible to be able to be a chef at my level, yet not be in a kitchen
full-time. Covid made everyone re-assess what they were doing. But if you had told me
in 2018 that I would be doing prep at home and cooking in other people's kitchens with my wife doing front of house, I would have just laughed you off. Now I see that it is a viable business. When I need extra help, the guys I used to work with often come and join me, they are flexible and can do some hours, but mostly it is the two of us"

Although happy in his current work/life balance situation and still able to do what he loves – create great food experiences, Dan has plans for a permanent site for Yuzu – the restaurant; "I have a site in Bradford on Avon. It is a great location, opposite the train station, and the building needs a complete overhaul. We are only at the architect stage and we will take things slowly, not rush to open and wait for things to be a bit calmer with the economy, everything out there is so uncertain at the moment. But we have plans. It will be a 4-day week operation to give staff a proper work/life balance, and will be just 24 seats. Open Kitchen, too. So, slowly and steadily – but I can't wait to open"

While tentatively drawing plans for the restaurant Yuzu and continuing the private events, Dan has also had time to experiment with Foie Royale. He hosts regular demos and presentations for the brand. I ask him what his initial reactions were and where he stumbled across it? "I was with Jack from Walter Rose butchers and we were having a chat about Foie Gras. I always had traditional Foie on my menu and I didn't want to take it off, but diners were beginning to be a bit vocal about the ethics of the ingredient. It is the way things have been moving for a while, more and more customers are choosing with their conscience and Foie Gras just does not tick the right boxes any more. But I was desperate not to lose the flavour profiles that you can only get from Foie Gras.

Jack asked me if I had heard of the new ethical Foie – known as Foie Royale. Being a typical chef, I was totally sceptical. I just did not believe that it could be possible to get the same flavour profiles from a manufactured ingredient. But I was persuaded to give it a go, and as soon as I tasted it, I fell in love with it. It has featured on my menus ever since"

Being an ambassador to Foie Royale is important work for Dan. He appreciates how chefs could be wary of trying the product, and is keen to offer his professional opinion on it. There have, after all, been varying attempts by other companies at a similar product over the years with not-so-great but none have come close to the authenticity of Foie Gras.
"What chefs need to understand is the versatility of Foie Royale. You can pan-sear it, you can monte sauces with it. Like any pastry chef knows with different couvertures of chocolate, sometimes you may have to tweak just a little to get the result that you want. But the product is super to work with,
the performance is great and the feedback from diners is so rewarding.

I love to make a Foie Royale butter. The flavour is banging and I would urge everyone to try it. I use it in a few recipes, like my ham hock terrine with salt baked celeriac, or a tomato and onion tartlet with Foie Royale butter that I put a tomato powder through. I grate Foie Royale straight from the fridge into Arancini balls which is insanely good and also, I put it inside my duck spring rolls with
honey, lime juice and fish sauce. The flavours are just...wow"

The convenience of Foie Royale is not lost to Dan either. With the days of skills shortages seemingly becoming the norm, using Foie Royale has distinct advantages. The product requires no de-veining, no soaking. It is ready to use and has a long shelf life. There is no waste so kinder on the GP margins and the EHO are way happier to see Foie Royale than buckets of livers soaking in the cold room. But all these aside; the flavours, the versatility, the authenticity and the convenience – it is the indisputable fact that diners are looking at ethics and choosing dishes that are kinder to animal welfare that hits home the hardest;

"As chefs, we know what Foie Gras brings to the table – flavour wise. It has been, until now, unmatched by any other ingredient – there has been no substitute. And while we love to stick with what we know, diners' habits are evolving, they are changing. There has been so much press around traditional Foie Gras that, rightly so, there are few guests who are happy to see it on today's menus. We have to listen to our diners, in part, and take a look at the world around us. Is there a better way? Can the same desired result be achieved ethically? The answer is yes, and the answer is Foie Royale".
Born in France and raised on a farm, it is only natural that Mike Logut has a love of gastronomy. He confesses to having loved traditional Foie Gras as a young boy but, as time went on and he looked at the world around him, questions about morals came into play; "As I grew up, so did my own morals around animal cruelty. I began to feel less comfortable with eating without conscience and more focussed on ethics. I detest any cruelty to animals and cannot bear to see suffering. When I looked at the traditional methods of Foie Gras, I was instantly appalled. I knew someone personally who had suffered from Hepatitis A, which swells your liver, and I saw how awful she felt, plus the yellowing of her skin as she suffered. A bird reared for Foie Gras, its liver swells by up to 7 times its normal size. The yellowing we don't see because of the birds' plumage, but we see it in the colour of the Foie Gras lobe"

Mike has been a professional, large-scale trader of food throughout his career, which meant that during these years he has built a large network of friends and colleagues in the same sector around the world. It was one of these colleagues, Joeri Groot, who first introduced Mike to the concept of
ethical Foie Gras;

"Joeri had cracked the idea of Foie Royale in his kitchen at home. He had invested in some equipment and developed the concept. It was on a very small scale and Joeri wanted to move the production up. I loved the product and the values surrounding it as soon as I listened to Joeri and tasted the first few batches. So, from the very beginning of the Foie Royale journey
I was involved with development, tasting, marketing and outreach. Joeri contacted the German Institute for Food Technology and scientist Nino Terjung and Foie Royale was developed, tested and launched"

With the likelihood of our government ministers doing a U-turn on banning the import of Foie Gras and Fur into the UK, you would expect Foie Royale to be alarmed. They are not. UK consumers have written the legislation by their own spending habits, opting for Foie Royale over traditional Foie Gras.

"There seems to be ever changing minds on this legislation. The ban was to be included in the Animals Abroad Bill which is to be introduced soon, but although many of the cabinet oppose, it looks like the ban on foie gras could be softened. Government says a final decision has not been taken, it is still being looked at. We sent some samples of Foie Royale over to the Houses of
Parliament; they know there is an alternative and ethical source"

"Foie Royale has been outperforming traditional Foie Gras for a while now, consumers are becoming more and more aware of an ethical alternative. We have seen organic growth of 400% in the past year. Chefs are following suit too. I know of some who have had very sinister threats by groups opposed to Foie Gras, but when they say they are using Foie Royale, an ethical alternative, they are instantly relieved of any malicious actions. There has been much progression over the past few decades. Morals have changed and future generations just simply won't accept a product if there is
an ethical and viable alternative"
Mike is super proud of the impact and change that Foie Royale is bringing about. The products' popularity on the Fortnum and Masons counter signifies discerning diners are flocking towards Foie Royale. Waitrose holds the product in over 120 stores across the UK and this Christmas Foie Royale will be found in Booths supermarket online store - The Good Grocers. This does not mean Foie Royale sits still, the team are currently developing new Foie Royale – the launches of which will be announced over time. With consumers driving their own legislation based on their own values, the constant debating of the issue in parliament seems almost irrelevant.
Read the full article at https://foieroyale.com/foie-royale-interview-in-chef-restaurant-magazine/