04 Aug 2023
Enjoy the Award-Winning Flavours of Japan from The Wasabi Company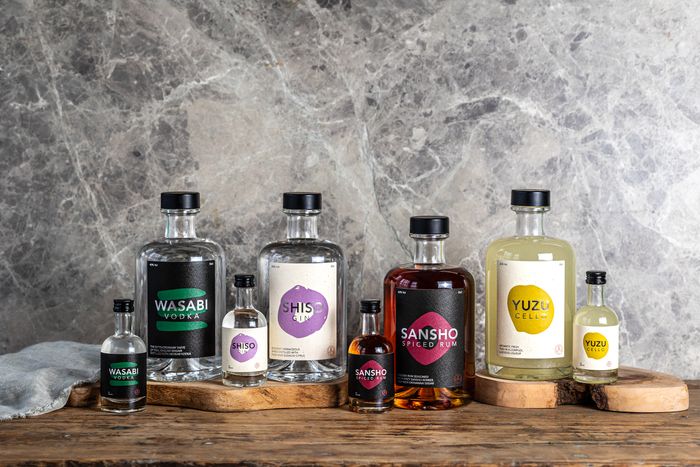 As well as exhibiting its growing range of award-winning own label products The Wasabi Company will be sharing their exciting 'Spirit of Japan' range with visitors to the Speciality Fine Food Fair
As well as exhibiting its growing range of award-winning own label products The Wasabi Company will be sharing their exciting 'Spirit of Japan' range with visitors to the Speciality & Fine Food Fair, including the Sansho Spiced Rum which was awarded an outstanding 3 Stars at this year's Great Taste Awards.
The set of four artisan spirits, made in collaboration with English Spirit Distilleries, blends flavours rarely found outside Japan in spirits that are smooth and sumptuous. The range comprises Sansho Spiced Rum, Shiso Gin, Wasabi Vodka and Yuzucello. All are excellent taken neat, served with a mixer or sublime in a cocktail; come and try them on stand 1150
The Wasabi Company are pioneers in the growing trend for Japanese cuisine. They were the first commercial growers of fresh wasabi in Europe initially supplying top chefs and restaurants but increasingly now direct to consumers too. They also sell wasabi plants, and traditional Japanese citrus trees such as Yuzu so people can grow their own. In 2018 The Wasabi Company launched a retail-ready range of own-label condiments and sauces. Many are award winning, and all are made using natural ingredients and free from artificial flavourings, colourings and preservatives. These products are bursting with fresh aromas and perfectly balanced flavours to provide everything needed to enjoy Japanese flavoured cuisine - and drinks - at home.
Some stand highlights include:
Sansho Spiced Rum 42% ABV 50cl RRP £38
(3 Star Great Taste Award Winner 2023)
This unique spirit is a combination of Japanese flavours on a base of the very best English rum. Top notes of smoky soy and sesame provide the light oak & tobacco flavours usually found in an aged rum; these mingle with mouth-watering peppery citrus from the sansho berries, and a rich Christmas cake sweetness from the base rum and Okinawan sugar. The rum is packed with treacly layers of zesty citrus, rich umami and tingling spice which linger on the palate for a sublime finish.
Serve Sansho Spiced Rum with a light ginger beer or enjoy it straight over ice.
It was awarded the maximum 3 stars in this year's 2023 Great Taste Awards with the judges commenting:
"A tawny amber rum with an enticing savoury spice nose which is appetising and perfumed. The complexity of the flavours is extraordinary and the length is impressive. The complex flavours are harmonious, with a sweet and savoury umami effect. Individual flavours such as the plums and the sweetly smoked soya are discernible. The butterscotch from the molasses adds a silkiness to this unique mix of flavours. A masterpiece."
"This bright, sparkling deep golden rum has plenty of intriguing aroma with hints of spice, vanilla, brown sugar and savoury herbs. The complex nose is well reflected in taste and we enjoyed the characterful balance of tingly pepper, richness and depth from the soy, and full, fruity finish. There is an impressive length that continues to give and perform part of the cohesive, interesting and delicious taste journey. A unique concept that has been skilfully executed."

"Umami on the nose and in the mouth. The togarashi spice awakens the taste buds, and tingles the lips in a nice way. Flavours of the smoked soy sauce came through and worked well with the plum. Overall a really fantastic rum with a lot of character. Really unique."

"Such an explosion of well balanced Japanese flavours in this English rum. It is delightful on the palate, the flavours linger and leave a cooling sensation in the mouth."
Shiso Gin 40% ABV 50cl RRP £36
(1 Star Great Taste Award Winner 2023)
This is an elegant gin with a balance of traditional Japanese flavours and classic English botanicals. The purple shiso leaves are grown by The Wasabi Company on their farm in Dorset and it is this which provides the delicate shiso flavours of basil, mint and caraway, enhanced by sublime citrus and herbaceous notes. This is a gin that is smooth, refreshing and perfectly balanced.
Serve Shiso Gin with a light tonic and garnish with fresh mint, or a slice of yuzu or lemon.
It was awarded 1 star in this year's 2023 Great Taste Awards with the judges commenting:
"This gin has plenty of intriguing aroma with promised hints of aromatic shisho and citrus. We loved the fluid flavour journey of this - with initial sweetness which then developed to a much more savoury herbal note and then on to a bright, fruity, bitter citrus."
Wasabi Vodka 40% ABV 50cl RRP £36
(1 Star Great Taste Award Winner 2020)
Although Wasabi Vodka from The Wasabi Company has been available for several years, this new, improved version made in collaboration with English Spirit is very different, with a far more intense flavour from the wasabi. In addition to the obvious heat imbued by the wasabi, there are delicate notes of earthy brassica with a hint of cumin and orris. Overall, it is buttery at the start, followed by heat, then earthy notes to close, and a mild bitterness on the finish. There is also a blend of sweet mustard and radish, ascending to high notes of star anise and pepper, and a complex lingering warmth to be savoured and enjoyed. The vodka is remarkably smooth, and the only heat or fieriness comes from the wasabi, not the spirit, as should be the case in good quality vodka.
Serve Wasabi Vodka over ice with soda water, or your choice of mixer.
Yuzucello 22% ABV 50cl RRP £29
(1 Star Great Taste Award Winner 2022)
Yuzucello is much more refined than Limoncello. On the mouth it produces an immediate zesty explosion of fresh mandarin, grapefruit, lemon and lime followed by a gentle citrus acidity and gland-tingling sherbet, and a final hit of sweetness and lasting zestiness. On the nose there is a sharp, almost mouth-watering citrus aroma.
Serve Yuzucello as a liqueur with soda water or your choice of mixer.
Jon Old, founder of The Wasabi Company said: "Product development is a passion, and we are self-schooled in hundreds of Japanese ingredients we knew nothing about 10 years ago. Entirely unique products have been created to blend our family farming history with a global outlook for the customers we serve, and many of them are award winning. We are particularly excited about our new Spirit of Japan range and look forward to sharing them with visitors to the stand."
Many of the products are also available as gift sets, perfect for every foodie.
Explore a whole new world of flavour; simply visit stand 1150 or wasabicompany.co.uk to discover it!
- ends –
For further information about this press release and hi-res images, contact:
Sophie Peel at Currant Communications on sophie.peel@currantcommunications.co.uk
or 020 3638 0323/07552 451264