17 Aug 2023
Awarded brand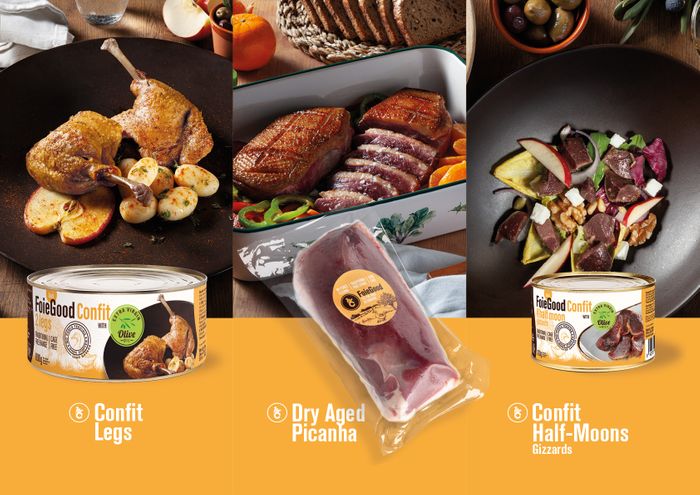 Ensuring the utmost quality has been, since FoieGood was born, one of our basic pillars. After years and years of constant R&D activity we have developed a wide range of products from ducks that are rear with the highest standards of animal welfare and without using force feeding methods, being fed by a natural and vegetable diet through which we obtain fatty livers. These products have an outstanding texture and flavour, so that they have won some prices because of it.
---
GREAT TASTE AWARD
Link to the award (https://greattasteawards.co.uk/results?_token=qdZF4RRNuIJGRqTSt77oEIzJA3kW3AaEBaJvPVpq&sort_options_limit=50&sort_options_sort_direction=desc&sort_options_sort_by=rating&Keyword=foiegood&mg_rating_id=&mg_category_id=&country_id=&county_id=&filter=Search)
This year we had the honour to receive in three of our products the prestigious Great Taste Awards from the Guild of Fine Food.
Each year, 500 experts judge tons of different foods and drinks, giving them a three stars' award, that only a 2% of the products presented each year obtains it, a two stars, the 10% of presented products obtains it, or one star, that it goes up to the 25%.
Our Dry Aged Picanha and Duck Confit won the two stars' award with critics like:
"This is a generously proportioned, tender breast of meat that judges felt demonstrated good husbandry and quality. The welfare of these ducks shines through on the flavour with the ageing process intensifying the flavour. This is a delicious duck breast and with fat that renders beautifully." About the Picanha.
"The flavours are deep and rich and gamey, which we liked. The finish is long and rich, with some lovely gamey notes. These duck legs are wonderfully tender and simply fall apart with just the touch of a fork. The crispy skin has a wonderful mouthfeel. The fat has a particularly good flavour and richness and the texture of the flesh is amazingly tender. This is a lovely product, which judges really enjoyed." About the duck confit legs.
And for last, by one star, the Confit Half-Moons with commentaries such as:
"We were surprised as to how moist and delicious this was! Rich and flavourful, these gizzards have a soft and tender texture and a long lasting game flavour. Very easy to eat, simply delicious!"
---
SUPERIOR TASTE AWARD
This award from Brussels has a similar dynamic to the Great Taste Awards, more than 200 chefs and sommeliers judge lots of products and give them a one, two or three stars' award.
Our duck spreadable received one-star last year and the duck spreadables with truffle and the other with boletus edulis won one star this year.
https://www.taste-institute.com/es/awarded-products/superior-taste-awards Look for us!
---
We look forward to keep ensuring the highest standards of animal welfare while we keep making outstanding products like these ones mentioned, and also cannot be happier of how far we have taken this project and the expectation we have.
For more information, check our profile or catalogue!