Acesur to develop a new bioplastic from olive by-products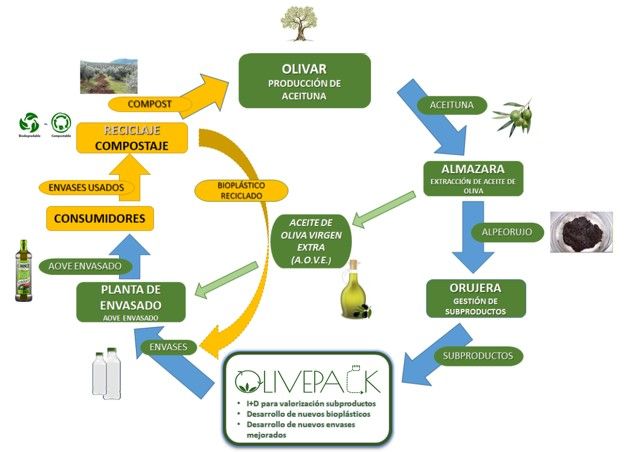 Acesur, in a context of constant search for excellence in innovation and sustainability not only in its products, but also in its processes and auxiliary materials, has launched the Olive Pack project, which aims to develop a new biodegradable/compostable bioplastic for the manufacture of bottles for the packaging of our extra virgin olive oils.
The new bioplastic will include in its composition micro/nano cellulose fibres (MNFC) extracted from olive by-products, in order to provide greater value to our by-products by generating new sustainable materials that can be used in the manufacture of extra virgin olive oil packaging.
Olive Pack is an R&D project that is doubly circular, as it aims to generate a bio-based, biodegradable material, as well as incorporating the circular economy associated with olive by-products (olive pulp), obtaining totally sustainable bottles with better technical performance than PET (plastic) in terms of resistance, impermeability to oxygen and light preservation.
Until 2024
In this project, together with Acesur, AINIA is collaborating in the extraction of the MNFC acetate, AIMPLAS in the manufacture of the bioplastic and Logoplaste in the development of the bottles from the bioplastic.
Acesur's R&D&I Department will work on the Olive Pack project until 2024, when this green packaging is expected to be available. The project budget exceeds one million euros.
Translated with www.DeepL.com/Translator (free version)