Two Farmers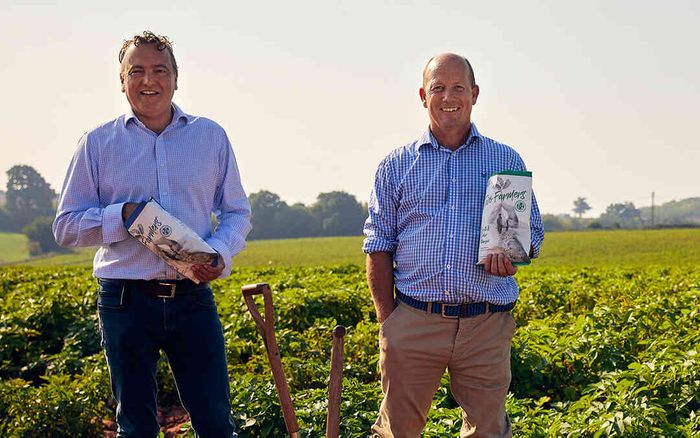 Farming duo, Mark Green and Sean Mason are the founders of the UK's first sustainable crisp brand, Two Farmers. With a plastic-free and 100% compostable crisp packet, the award-winning, eco-friendly brand now produces up to 20,000 packets of crisps each day, reducing the amount of plastic packets out there that can typically take decades to decompose. This year, the brand was delighted to be chosen as the only crisp supplier for Glastonbury Festival - saving over 70,000 plastic packets entering the environment.
Sean and Mark are both fourth-generation farmers and day-on-day have witnessed first-hand the damage that plastic is doing to our environment. It was always the pair's dream to launch a crisp brand, but seeing crisp packets in hedgerows and scattered across the countryside was something they'd see daily - there was no way they could contribute to the litter and plastic problem the planet was facing? It took three hard years of effort and determination to launch their challenger crisp brand. As farmers, they knew they wanted to produce a crisp brand that celebrated local ingredients, that could be made on their own farm and would be sustainable.
The biggest challenge was, of course, the packet itself and this took three years of trial and error to get to a stage where they were happy to launch it later in 2018 - but they got there and have been overwhelmed by the response and the custom they have received. Sustainability is really at the core of what Two Farmers are about; through supporting social campaigns, the brand encourages consumers to see the value in making plastic-free swaps, living a more sustainable lifestyle and taking responsibility for cleaning up their own corner of our beautiful United Kingdom to protect our environment.
In 2020, the pair launched a new-generation packet with an additional layer of cellulose which enabled the product to have an extended shelf life due to consumer demand.
Two Farmers now works with over 1500 retailers, including: Gloucester Services, Harvey Nichols, Darts Farm, Chester Zoo, Eden Project, Bayley & Sage and Cobbs Farm Shop.