Blackthorn Salt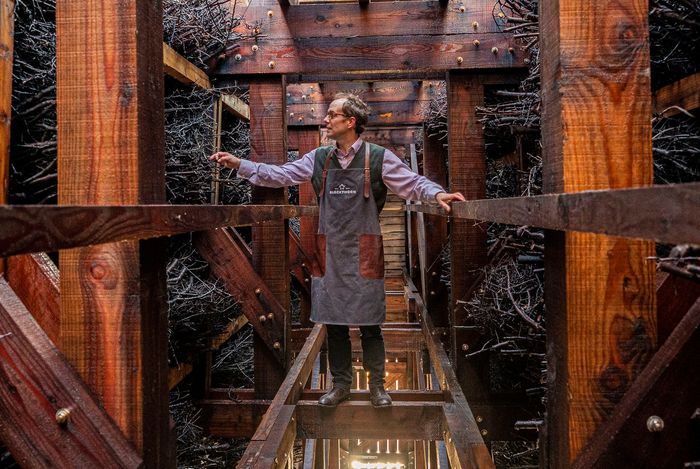 To Blackthorn a large element of being sustainable relates to the environment, local and beyond, but we also consider a more subtle long term view: to be wholly sustainable, a business needs to be ready to change and evolve; it needs to fit within its surroundings without causing harm, and enabling future generations to be able to meet their own needs to the same extent. Even better if it can add some good to the local environment, physical as well as social. And it is this holistic version of sustainability that we try to pay heed to each time we make a business decision.
Initiatives include:
The Graduation Tower method where 90% of the evaporation required to transform seawater into seasalt is achieved by the sun and wind alone.
Improving efficiency and addressing waste heat: Blackthorn is working with Edinburgh Napier University on a pioneering project to recycle any wasted heat we do have from the Pan house as well as to use solar energy to gently increase the temperature of the mother liquer at various stages in the process to improve efficiency and increase productivity.
Supply Chain: Blackthorn does not have a large supply chain, the single ingredient being the sea, which we source locally.
Suppliers: For our major packaging requirements, we have worked closely with a local company 15miles up the coast in Irvine to produce all of the bespoke card boxes for our 120g, 240g and 5g boxes.
Partners: At Blackthorn, we try to address the simple things which might help similar producers/ likeminded artisan enterprises for example, we provide any manufacturers using Blackthorn in their products with free of charge, compostable stickers which can be applied to their branding to minimise wastage and costs in terms of redesigning packaging and labeling issues. We try to reach out and work in partnership with enterprises with similar outlooks for example we have undertaken knowledge sharing with the amazing Mossgiel Milk company also based in Ayrshire, as well as Orkney Craft Vinegar. With Mossgiel we have had mutually beneficial sessions of understanding low energy options for machinery etc and with Orknery Craft, we shared everything we could as to how to enable the business to benefit economically and sustainably in the long term from tv appearances etc.
These are modest examples, but have been achievable and beneficial, cost saving and sustainable for each business, including Blackthorn.